Interactive Map of Anguilla
Anguilla is a Constitutional monarchy founded in 1980 and located in the area of North America, with a land area of 103 km² and population density of 175 people per km². Territory of Anguilla borders Caribbean sea. Gross domestic product (GDP) is of about 175400 millions of dollars dollars.
Geography of Anguilla
Crocus Hill is the highest point in Anguilla at an altitude of 65 meters, instead the lowest point in the country is Caribbean Sea at sea level.
Simple Maps of Anguilla
Here are the best maps of Anguilla at high resolution. Below you find printable maps showing Anguilla in different styles and positions.
Frequently asked questions about Anguilla
How is Anguilla divided?
If you are looking for regions or provinces in Anguilla, here are all the main areas:
East End
Stoney Ground
North Side
The Valley
North Hill
Sandy Ground
South Hill
West End
Blowing Point
The Farrington
Sandy Hill
Island Harbour
George Hill
The Quarter
What are the main points of interest in Anguilla?
The major tourist attractions in Anguilla are Rendezvous Bay, Sandy Island, Shoal Bay, Maundays Bay, Meads Bay Pond, Prickley Pear Cays, Scilly Cay, Crocus Bay Beach, Shoal Bay Beach.
What is the flag of Anguilla?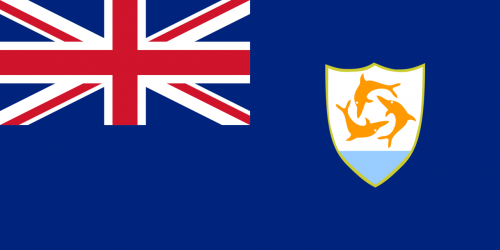 Flag of Anguilla
What is the capital of Anguilla?
The main city and capital of Anguilla is The Valley.
What is the currency in Anguilla?
Official currency of Anguilla is Dollar.
What is the population of Anguilla?
In Anguilla there are 18000 people.
What is international phone code in Anguilla?
Anguilla telephone code is 1-264.
Other Country Maps in North America