Interactive Map of Mexico
Mexico is a Republic founded in 1810 and located in the area of North America, with a land area of 1972551 km² and population density of 65 people per km². Territory of Mexico borders Belize, Guatemala, United States. Gross domestic product (GDP) is of about 133000 millions of dollars dollars.
Geography of Mexico
Volcán Citlaltépetl is the highest point in Mexico at an altitude of 5636 meters, instead the lowest point in the country is Laguna Salada at −10 m.
Simple Maps of Mexico
Here are the best maps of Mexico at high resolution. Below you find printable maps showing Mexico in different styles and positions.
Frequently asked questions about Mexico
How is Mexico divided?
If you are looking for regions or provinces in Mexico, here are all the main areas:
Sonora
Baja California
Chihuahua
Coahuila
Tamaulipas
Nuevo León
Quintana Roo
Campeche
Tabasco
Chiapas
Colima
Nayarit
Baja California Sur
Sinaloa
Yucatán
Veracruz
Jalisco
Michoacán
Guerrero
Oaxaca
México
Puebla
Morelos
Querétaro
Hidalgo
Guanajuato
San Luis Potosí
Zacatecas
Aguascalientes
Durango
Tlaxcala
Distrito Federal
What are the main points of interest in Mexico?
The major tourist attractions in Mexico are Archeological Zone of Tulum, Xcaret Park, Coba, Xel-Há Park, Bosque de Chapultepec, Zócalo, Zona Arqueológica Palenque, Museo Nacional de Antropología, Pyramid of the Sun.
What is the flag of Mexico?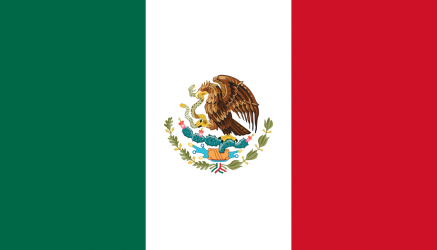 Flag of Mexico
What is the capital of Mexico?
The main city and capital of Mexico is Mexico City.
What is the currency in Mexico?
Official currency of Mexico is Peso.
What is the population of Mexico?
In Mexico there are 129057800 people.
What is international phone code in Mexico?
Mexico telephone code is 52.
Other Country Maps in North America