Interactive Map of Iran
Iran is a Republic founded in 1979 and located in the area of Asia, with a land area of 1648001 km² and population density of 51 people per km². Territory of Iran borders Afghanistan, Armenia, Azerbaijan, Iraq, Pakistan, Turkey, Turkmenistan. Gross domestic product (GDP) is of about 412000 millions of dollars dollars.
Geography of Iran
Damavand is the highest point in Iran at an altitude of 5610 meters, instead the lowest point in the country is Caspian Sea at −28 m.
Simple Maps of Iran
Here are the best maps of Iran at high resolution. Below you find printable maps showing Iran in different styles and positions.
Frequently asked questions about Iran
How is Iran divided?
If you are looking for regions or provinces in Iran, here are all the main areas:
West Azarbaijan
East Azarbaijan
Ardebil
Gilan
Kordestan
Kermanshah
Ilam
Khuzestan
North Khorasan
Golestan
Razavi Khorasan
South Khorasan
Sistan and Baluchestan
Bushehr
Hormozgan
Mazandaran
Semnan
Zanjan
Qazvin
Markazi
Esfahan
Chahar Mahall and Bakhtiari
Kohgiluyeh and Buyer Ahmad
Fars
Kerman
Hamadan
Lorestan
Yazd
Qom
Tehran
Alborz
What are the main points of interest in Iran?
The major tourist attractions in Iran are Naqsh-e Jahan Square, Golestan Palace, Aali Qapu Palace, Si O Se Pol Bridge, Chehel Sotoon Palace, Eram Garden, Milad Tower, Nasir al-Mulk Mosque, Khajoo Bridge.
What is the flag of Iran?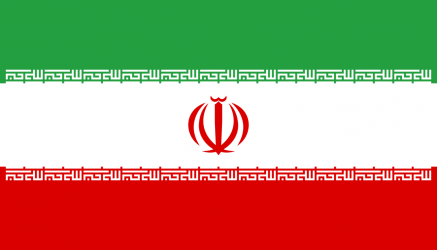 Flag of Iran
What is the capital of Iran?
The main city and capital of Iran is Tehran.
What is the currency in Iran?
Official currency of Iran is Rial.
What is the population of Iran?
In Iran there are 84092500 people.
What is international phone code in Iran?
Iran telephone code is 98.
Other Country Maps in Asia