Interactive Map of Pakistan
Pakistan is a Republic founded in 1947 and located in the area of Asia, with a land area of 796096 km² and population density of 278 people per km². Territory of Pakistan borders Afghanistan, India, Iran. Gross domestic product (GDP) is of about 315000 millions of dollars dollars.
Geography of Pakistan
K2 is the highest point in Pakistan at an altitude of 8611 meters, instead the lowest point in the country is Arabian Sea at sea level.
Simple Maps of Pakistan
Here are the best maps of Pakistan at high resolution. Below you find printable maps showing Pakistan in different styles and positions.
Frequently asked questions about Pakistan
How is Pakistan divided?
If you are looking for regions or provinces in Pakistan, here are all the main areas:
Sind
Northern Areas
Azad Kashmir
Punjab
K P
F A T A
Baluchistan
F C T
What are the main points of interest in Pakistan?
The major tourist attractions in Pakistan are Badshahi Mosque, Lahore Fort, Faisal Mosque, Shalimar Bagh, Sheesh Mahal, Saif-ul-Maluk Lake, Mohenjo-daro, Minar-e-Pakistan, Pakistan Monument.
What is the flag of Pakistan?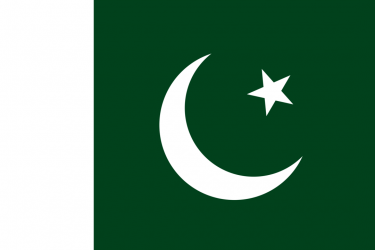 Flag of Pakistan
What is the capital of Pakistan?
The main city and capital of Pakistan is Islamabad.
What is the currency in Pakistan?
Official currency of Pakistan is Rupee.
What is the population of Pakistan?
In Pakistan there are 221293000 people.
What is international phone code in Pakistan?
Pakistan telephone code is 92.
Other Country Maps in Asia