Interactive Map of Honduras
Honduras is a Republic founded in 1821 and located in the area of North America, with a land area of 112091 km² and population density of 88 people per km². Territory of Honduras borders Guatemala, El Salvador, Nicaragua. Gross domestic product (GDP) is of about 188800 millions of dollars dollars.
Geography of Honduras
Cerro Las Minas is the highest point in Honduras at an altitude of 2870 meters, instead the lowest point in the country is Caribbean Sea at sea level.
Simple Maps of Honduras
Here are the best maps of Honduras at high resolution. Below you find printable maps showing Honduras in different styles and positions.
Frequently asked questions about Honduras
How is Honduras divided?
If you are looking for regions or provinces in Honduras, here are all the main areas:
Ocotepeque
Lempira
Intibucá
La Paz
Valle
Olancho
Gracias a Dios
El Paraíso
Choluteca
Cortés
Santa Bárbara
Copán
Colón
Atlántida
Islas de la Bahía
Comayagua
Yoro
Francisco Morazán
What are the main points of interest in Honduras?
The major tourist attractions in Honduras are Cayos Cochinos, Lake Yojoa, West Bay Beach, Parque Nacional Pico Bonito, Gumbalimba Park, Parque Nacional La Tigra, Little French Key, Celaque National Park, Daniel Johnson's Monkey and Sloth Hang Out.
What is the flag of Honduras?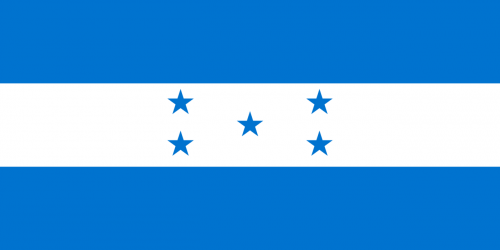 Flag of Honduras
What is the capital of Honduras?
The main city and capital of Honduras is Tegucigalpa.
What is the currency in Honduras?
Official currency of Honduras is Lempira.
What is the population of Honduras?
In Honduras there are 9919300 people.
What is international phone code in Honduras?
Honduras telephone code is 504.
Other Country Maps in North America