Interactive Map of El Salvador
El Salvador is a Republic founded in 1821 and located in the area of North America, with a land area of 21041 km² and population density of 308 people per km². Territory of El Salvador borders Guatemala, Honduras. Gross domestic product (GDP) is of about 246700 millions of dollars dollars.
Geography of El Salvador
Cerro El Pital is the highest point in El Salvador at an altitude of 2730 meters, instead the lowest point in the country is North Pacific Ocean at sea level.
Simple Maps of El Salvador
Here are the best maps of El Salvador at high resolution. Below you find printable maps showing El Salvador in different styles and positions.
Frequently asked questions about El Salvador
How is El Salvador divided?
If you are looking for regions or provinces in El Salvador, here are all the main areas:
Ahuachapán
Santa Ana
Chalatenango
Cabañas
Morazán
San Miguel
La Unión
Sonsonate
La Libertad
La Paz
San Vicente
Usulután
Cuscatlán
San Salvador
What are the main points of interest in El Salvador?
The major tourist attractions in El Salvador are Lago de Coatepeque, Joya de Ceren Archaeological Site, Santa Ana Volcano, El Tazumal, Cerro Verde National Park, San Salvador Volcano, Ruta de las Flores, El Boquerón National Park, Izalco.
What is the flag of El Salvador?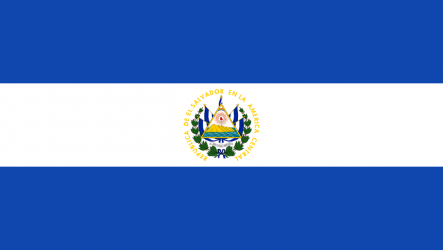 Flag of El Salvador
What is the capital of El Salvador?
The main city and capital of El Salvador is San Salvador.
What is the currency in El Salvador?
Official currency of El Salvador is Dollar.
What is the population of El Salvador?
In El Salvador there are 6489300 people.
What is international phone code in El Salvador?
El Salvador telephone code is 503.
Other Country Maps in North America