Interactive Map of Egypt
Egypt is a Republic founded in 1953 and located in the area of Africa, with a land area of 1001451 km² and population density of 102 people per km². Territory of Egypt borders Gaza Strip, Israel, Libya, Sudan. Gross domestic product (GDP) is of about 262000 millions of dollars dollars.
Geography of Egypt
Mount Catherine is the highest point in Egypt at an altitude of 2629 meters, instead the lowest point in the country is Qattara Depression at −133 m.
Simple Maps of Egypt
Here are the best maps of Egypt at high resolution. Below you find printable maps showing Egypt in different styles and positions.
Frequently asked questions about Egypt
How is Egypt divided?
If you are looking for regions or provinces in Egypt, here are all the main areas:
Shamal Sina'
Aswan
Al Wadi at Jadid
Al Bahr al Ahmar
Matruh
As Suways
Janub Sina'
Bur Sa`id
Ad Daqahliyah
Ash Sharqiyah
Al Isma`iliyah
Dumyat
Kafr ash Shaykh
Al Buhayrah
Al Iskandariyah
Al Qahirah
Al Jizah
Al Minya
Al Fayyum
Bani Suwayf
Al Minufiyah
Al Qalyubiyah
Al Gharbiyah
Suhaj
Qina
Asyut
Luxor
What are the main points of interest in Egypt?
The major tourist attractions in Egypt are Giza Necropolis, Valley of the Kings, The Egyptian Museum, Great Sphinx of Giza, Karnak, Luxor Temple, Abu Simbel Temples, Philae, Khan el-Khalili.
What is the flag of Egypt?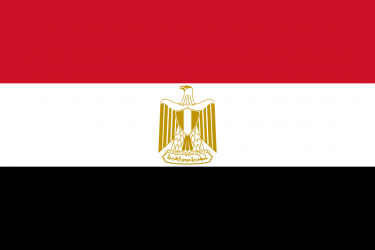 Flag of Egypt
What is the capital of Egypt?
The main city and capital of Egypt is Cairo.
What is the currency in Egypt?
Official currency of Egypt is Pound.
What is the population of Egypt?
In Egypt there are 102514600 people.
What is international phone code in Egypt?
Egypt telephone code is 20.
Other Country Maps in Africa