Interactive Map of Libya
Libya is a Constitutional republic founded in 1947 and located in the area of Africa, with a land area of 1759541 km² and population density of 4 people per km². Territory of Libya borders Algeria, Chad, Egypt, Niger, Sudan, Tunisia. Gross domestic product (GDP) is of about 423600 millions of dollars dollars.
Geography of Libya
Bikku Bitti is the highest point in Libya at an altitude of 2267 meters, instead the lowest point in the country is Sabkhat Ghuzayyil at −47 m.
Simple Maps of Libya
Here are the best maps of Libya at high resolution. Below you find printable maps showing Libya in different styles and positions.
Frequently asked questions about Libya
How is Libya divided?
If you are looking for regions or provinces in Libya, here are all the main areas:
Ghadamis
An Nuqat al Khams
Al Kufrah
Murzuq
Al Butnan
Ajdabiya
Ash Shati'
Ghat
Surt
Misratah
Al Marqab
Tajura' wa an Nawahi al Arba
Az Zawiyah
Al Qubbah
Al Jabal al Akhdar
Al Marj
Benghazi
Al Jifarah
Mizdah
Al Jufrah
Sabha
Wadi al Hayaa
What are the main points of interest in Libya?
The major tourist attractions in Libya are Ghadames Grand Erg Oriental Sand Dunes, Saraya Museum, Jebel Uweinat, Gaberoun, Jebel Akhdar, Nafusa Mountains, Martyrs' Square, Waw an Namus, Marcus Aurelius Arch.
What is the flag of Libya?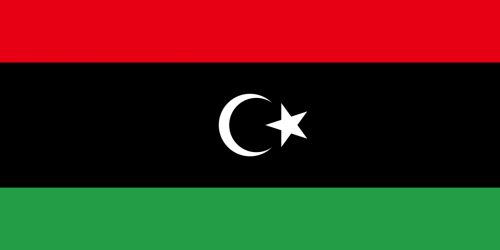 Flag of Libya
What is the capital of Libya?
The main city and capital of Libya is Tripolis.
What is the currency in Libya?
Official currency of Libya is Dinar.
What is the population of Libya?
In Libya there are 6880000 people.
What is international phone code in Libya?
Libya telephone code is 218.
Other Country Maps in Africa