Interactive Map of Mali
Mali is a Republic founded in 1960 and located in the area of Africa, with a land area of 1240001 km² and population density of 16 people per km². Territory of Mali borders Algeria, Burkina Faso, Côte d'Ivoire, Guinea, Mauritania, Niger, Senegal. Gross domestic product (GDP) is of about 113700 millions of dollars dollars.
Geography of Mali
Hombori Tondo is the highest point in Mali at an altitude of 1155 meters, instead the lowest point in the country is Senegal River at 23 m.
Simple Maps of Mali
Here are the best maps of Mali at high resolution. Below you find printable maps showing Mali in different styles and positions.
Frequently asked questions about Mali
How is Mali divided?
If you are looking for regions or provinces in Mali, here are all the main areas:
Kayes
Timbuktu
Gao
Mopti
Ségou
Sikasso
Koulikoro
Kidal
Bamako
What are the main points of interest in Mali?
The major tourist attractions in Mali are Santa Monica Mountains National Recreation Area, Point Dume, Zuma Beach, Malibu Creek State Park, Malibu Lagoon State Beach, El Matador Beach, Malibu Wine Safaris, Solstice Canyon, Leo Carrillo State Park.
What is the flag of Mali?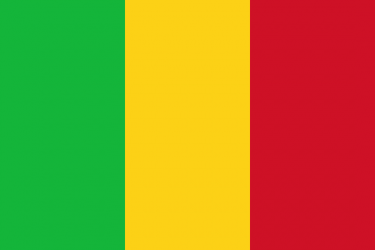 Flag of Mali
What is the capital of Mali?
The main city and capital of Mali is Bamako.
What is the currency in Mali?
Official currency of Mali is Franc.
What is the population of Mali?
In Mali there are 20306100 people.
What is international phone code in Mali?
Mali telephone code is 223.
Other Country Maps in Africa