Interactive Map of Madagascar
Madagascar is a Republic founded in 1960 and located in the area of Africa, with a land area of 587041 km² and population density of 47 people per km². Territory of Madagascar borders the sea. Gross domestic product (GDP) is of about 105300 millions of dollars dollars.
Geography of Madagascar
Maromokotro is the highest point in Madagascar at an altitude of 2876 meters, instead the lowest point in the country is Indian Ocean at sea level.
Simple Maps of Madagascar
Here are the best maps of Madagascar at high resolution. Below you find printable maps showing Madagascar in different styles and positions.
Frequently asked questions about Madagascar
How is Madagascar divided?
If you are looking for regions or provinces in Madagascar, here are all the main areas:
Boeny
Sofia
Diana
Sava
Analanjirofo
Atsinanana
Vatovavy-Fitovinany
Atsimo-Atsinanana
Anosy
Androy
Atsimo-Andrefana
Menabe
Melaky
Analamanga
Betsiboka
Bongolava
Vakinankaratra
Amoron'i Mania
Alaotra-Mangoro
Ihorombe
Haute Matsiatra
Itasy
What are the main points of interest in Madagascar?
The major tourist attractions in Madagascar are Avenue of the Baobabs, Tsingy de Bemaraha Strict Nature Reserve, Isalo National Park, Tsingy De Bemaraha National Park, Ranomafana National Park, Andasibe-Mantadia National Park, Réserve spéciale d'Ankarana, Amber Mountain National Park, Masoala National Park.
What is the flag of Madagascar?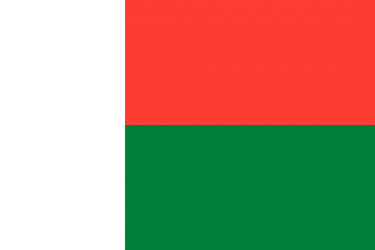 Flag of Madagascar
What is the capital of Madagascar?
The main city and capital of Madagascar is Antananarivo.
What is the currency in Madagascar?
Official currency of Madagascar is Ariary.
What is the population of Madagascar?
In Madagascar there are 27758100 people.
What is international phone code in Madagascar?
Madagascar telephone code is 261.
Other Country Maps in Africa