Interactive Map of Afghanistan
Afghanistan is a Republic founded in 1709 and located in the area of Asia, with a land area of 647501 km² and population density of 60 people per km². Territory of Afghanistan borders China, Iran, Pakistan, Tajikistan, Turkmenistan, Uzbekistan, India. Gross domestic product (GDP) is of about 206500 millions of dollars dollars.
Geography of Afghanistan
Noshaq is the highest point in Afghanistan at an altitude of 7492 meters, instead the lowest point in the country is Amu Darya at 258 m.
Simple Maps of Afghanistan
Here are the best maps of Afghanistan at high resolution. Below you find printable maps showing Afghanistan in different styles and positions.
Frequently asked questions about Afghanistan
How is Afghanistan divided?
If you are looking for regions or provinces in Afghanistan, here are all the main areas:
Badakhshan
Takhar
Kunduz
Balkh
Jawzjan
Faryab
Badghis
Hirat
Nimroz
Farah
Kunar
Nuristan
Nangarhar
Khost
Paktya
Paktika
Zabul
Kandahar
Hilmand
Ghazni
Kabul
Laghman
Logar
Kapisa
Wardak
Bamyan
Parwan
Sari Pul
Ghor
Baghlan
Samangan
Uruzgan
What are the main points of interest in Afghanistan?
The major tourist attractions in Afghanistan are Buddha of Bamyan, Band-e-Amir National Park, Minaret of Jam, BAGH BABUR, Naw Shakh, The Afghanistan national museum, Shrine of Hazrat Ali, Band-e Amir, Kabul Darul Aman Palace ارگ دارالامان.
What is the flag of Afghanistan?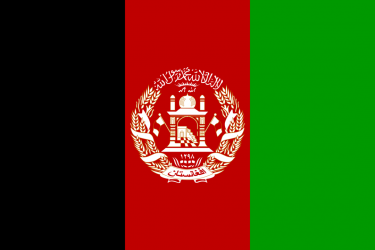 Flag of Afghanistan
What is the capital of Afghanistan?
The main city and capital of Afghanistan is Kabul.
What is the currency in Afghanistan?
Official currency of Afghanistan is Afghani.
What is the population of Afghanistan?
In Afghanistan there are 39010600 people.
What is international phone code in Afghanistan?
Afghanistan telephone code is 93.
Other Country Maps in Asia