Interactive Map of Tanzania
Tanzania is a Republic founded in 1961 and located in the area of Africa, with a land area of 945088 km² and population density of 63 people per km². Territory of Tanzania borders Burundi, Democratic Republic of the Congo, Kenya, Malawi, Mozambique, Rwanda, Uganda, Zambia. Gross domestic product (GDP) is of about 319400 millions of dollars dollars.
Geography of Tanzania
Kilimanjaro is the highest point in Tanzania at an altitude of 5892 meters, instead the lowest point in the country is Indian Ocean at sea level.
Simple Maps of Tanzania
Here are the best maps of Tanzania at high resolution. Below you find printable maps showing Tanzania in different styles and positions.
Frequently asked questions about Tanzania
How is Tanzania divided?
If you are looking for regions or provinces in Tanzania, here are all the main areas:
Mbeya
Njombe
Ruvuma
Kigoma
Katavi
Rukwa
Kagera
Mtwara
Mara
Arusha
Kilimanjaro
Tanga
Lindi
Pwani
Dar-Es-Salaam
Zanzibar South and Central
Kaskazini-Unguja
Zanzibar West
Kusini-Pemba
Kaskazini-Pemba
Morogoro
Dodoma
Manyara
Singida
Tabora
Iringa
Mwanza
Simiyu
Geita
Shinyanga
What are the main points of interest in Tanzania?
The major tourist attractions in Tanzania are Mount Kilimanjaro, Ngorongoro Conservation Area, Serengeti National Park, Tarangire National Park, Lake Manyara National Park, Selous Mapumziko Lodge, Arusha National Park, Mount Meru, Changu Island.
What is the flag of Tanzania?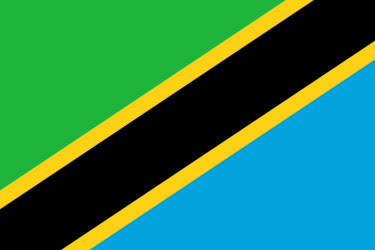 Flag of Tanzania
What is the capital of Tanzania?
The main city and capital of Tanzania is Dodoma.
What is the currency in Tanzania?
Official currency of Tanzania is Shilling.
What is the population of Tanzania?
In Tanzania there are 59895200 people.
What is international phone code in Tanzania?
Tanzania telephone code is 255.
Other Country Maps in Africa