Interactive Map of Tunisia
Tunisia is a Republic founded in 1956 and located in the area of Africa, with a land area of 163611 km² and population density of 72 people per km². Territory of Tunisia borders Algeria, Libya. Gross domestic product (GDP) is of about 483800 millions of dollars dollars.
Geography of Tunisia
Jebel ech Chambi is the highest point in Tunisia at an altitude of 1544 meters, instead the lowest point in the country is Shatt al Gharsah at −17 m.
Simple Maps of Tunisia
Here are the best maps of Tunisia at high resolution. Below you find printable maps showing Tunisia in different styles and positions.
Frequently asked questions about Tunisia
How is Tunisia divided?
If you are looking for regions or provinces in Tunisia, here are all the main areas:
Tataouine
Médenine
Jendouba
Kebili
Tozeur
Gafsa
Kassérine
Le Kef
Gabès
Sfax
Mahdia
Monastir
Sousse
Nabeul
Ben Arous (Tunis Sud)
Tunis
Manubah
Bizerte
Béja
Siliana
Sidi Bou Zid
Kairouan
Zaghouan
What are the main points of interest in Tunisia?
The major tourist attractions in Tunisia are Bardo National Museum, Port El Kantaoui, Dougga, El Jem Amphitheatre, Sousse Ribat, Ichkeul Lake, Antonine Baths, Carthageland, Synagogue de la Ghriba.
What is the flag of Tunisia?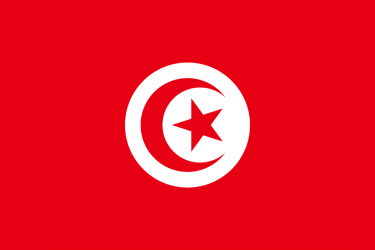 Flag of Tunisia
What is the capital of Tunisia?
The main city and capital of Tunisia is Tunis.
What is the currency in Tunisia?
Official currency of Tunisia is Dinar.
What is the population of Tunisia?
In Tunisia there are 11830100 people.
What is international phone code in Tunisia?
Tunisia telephone code is 216.
Other Country Maps in Africa