Interactive Map of Sweden
Sweden is a Constitutional monarchy founded in 1397 and located in the area of Europe, with a land area of 449965 km² and population density of 22 people per km². Territory of Sweden borders Finland, Norway. Gross domestic product (GDP) is of about 552000 millions of dollars dollars.
Geography of Sweden
Kebnekaise is the highest point in Sweden at an altitude of 2097 meters, instead the lowest point in the country is Kristianstad at −2 m.
Simple Maps of Sweden
Here are the best maps of Sweden at high resolution. Below you find printable maps showing Sweden in different styles and positions.
Frequently asked questions about Sweden
How is Sweden divided?
If you are looking for regions or provinces in Sweden, here are all the main areas:
Norrbotten
Västerbotten
Jämtland
Dalarna
Värmland
Västra Götaland
Västernorrland
Gävleborg
Uppsala
Stockholm
Södermanland
Östergötland
Kalmar
Blekinge
Skåne
Halland
Gotland
Västmanland
Jönköping
Orebro
Kronoberg
What are the main points of interest in Sweden?
The major tourist attractions in Sweden are Vasa Museum, Skansen, The Royal Palace, Stockholm City Hall, Drottningholm Palace, ABBA The Museum, Gröna Lund, Djurgården, Nobel Museum.
What is the flag of Sweden?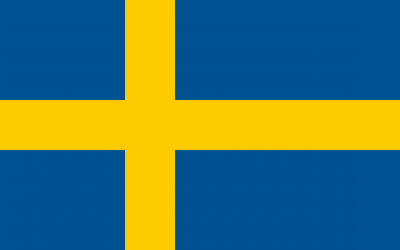 Flag of Sweden
What is the capital of Sweden?
The main city and capital of Sweden is Stockholm.
What is the currency in Sweden?
Official currency of Sweden is Krona.
What is the population of Sweden?
In Sweden there are 10105100 people.
What is international phone code in Sweden?
Sweden telephone code is 46.
Other Country Maps in Europe