Interactive Map of Switzerland
Switzerland is a Republic founded in 1291 and located in the area of Europe, with a land area of 41291 km² and population density of 210 people per km². Territory of Switzerland borders Austria, France, Italy, Liechtenstein, Germany. Gross domestic product (GDP) is of about 646000 millions of dollars dollars.
Geography of Switzerland
Dufourspitze is the highest point in Switzerland at an altitude of 4634 meters, instead the lowest point in the country is Lake Maggiore at 193 m.
Simple Maps of Switzerland
Here are the best maps of Switzerland at high resolution. Below you find printable maps showing Switzerland in different styles and positions.
Frequently asked questions about Switzerland
How is Switzerland divided?
If you are looking for regions or provinces in Switzerland, here are all the main areas:
Valais
Ticino
Graubünden
Schaffhausen
Thurgau
Zürich
Aargau
Basel-Stadt
Basel-Landschaft
Sankt Gallen
Solothurn
Jura
Genève
Vaud
Neuchâtel
Bern
Lucerne
Zug
Uri
Schwyz
Glarus
Nidwalden
Fribourg
Obwalden
Appenzell Ausserrhoden
Appenzell Innerrhoden
What are the main points of interest in Switzerland?
The major tourist attractions in Switzerland are Jungfrau, Chillon Castle, Rhine Falls, Jungfraujoch, Mount Pilatus, Chapel Bridge, Titlis, Lake Zurich, Eiger.
What is the flag of Switzerland?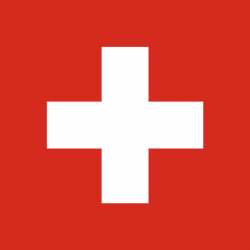 Flag of Switzerland
What is the capital of Switzerland?
The main city and capital of Switzerland is Berne.
What is the currency in Switzerland?
Official currency of Switzerland is Franc.
What is the population of Switzerland?
In Switzerland there are 8660500 people.
What is international phone code in Switzerland?
Switzerland telephone code is 41.
Other Country Maps in Europe