Interactive Map of Ukraine
Ukraine is a Republic founded in 1917 and located in the area of Europe, with a land area of 603701 km² and population density of 72 people per km². Territory of Ukraine borders Belarus, Hungary, Moldova, Poland, Romania, Russia, Slovakia. Gross domestic product (GDP) is of about 176000 millions of dollars dollars.
Geography of Ukraine
Hoverla is the highest point in Ukraine at an altitude of 2061 meters, instead the lowest point in the country is Kuyalnik Estuary at −5 m.
Simple Maps of Ukraine
Here are the best maps of Ukraine at high resolution. Below you find printable maps showing Ukraine in different styles and positions.
Frequently asked questions about Ukraine
How is Ukraine divided?
If you are looking for regions or provinces in Ukraine, here are all the main areas:
Chernihiv
Volyn
Rivne
Zhytomyr
Kiev
Transcarpathia
Chernivtsi
Ivano-Frankivs'k
Odessa
Vinnytsya
L'viv
Sumy
Kharkiv
Luhans'k
Donets'k
Kherson
Zaporizhzhya
Mykolayiv
Poltava
Khmel'nyts'kyy
Ternopil'
Dnipropetrovs'k
Cherkasy
Kirovohrad
Kiev City
What are the main points of interest in Ukraine?
The major tourist attractions in Ukraine are St. Sophia's Cathedral, Kiev Pechersk Lavra, Golden Gate, Independence Square, Khreschatyk Street, St. Andrew's Church, The Motherland Monument, Rynok Square, St. Michael's Golden-Domed Monastery.
What is the flag of Ukraine?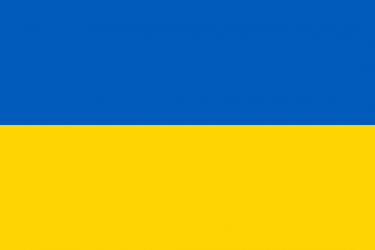 Flag of Ukraine
What is the capital of Ukraine?
The main city and capital of Ukraine is Kiev.
What is the currency in Ukraine?
Official currency of Ukraine is Hryvnia.
What is the population of Ukraine?
In Ukraine there are 43710100 people.
What is international phone code in Ukraine?
Ukraine telephone code is 380.
Other Country Maps in Europe