Interactive Map of Somalia
Somalia is a Republic founded in 2500 and located in the area of Africa, with a land area of 637658 km² and population density of 25 people per km². Territory of Somalia borders Djibouti, Ethiopia, Kenya. Gross domestic product (GDP) is of about 237200 millions of dollars dollars.
Geography of Somalia
is the highest point in Somalia at an altitude of 2450 meters, instead the lowest point in the country is Indian Ocean at sea level.
Simple Maps of Somalia
Here are the best maps of Somalia at high resolution. Below you find printable maps showing Somalia in different styles and positions.
Frequently asked questions about Somalia
How is Somalia divided?
If you are looking for regions or provinces in Somalia, here are all the main areas:
Nugaal
Mudug
Galguduud
Hiiraan
Bakool
Gedo
Bari
Jubbada Hoose
Jubbada Dhexe
Shabeellaha Hoose
Banaadir
Shabeellaha Dhexe
Bay
What are the main points of interest in Somalia?
The major tourist attractions in Somalia are Laas Geel, Masjidka Isbahaysiga, Catholic Church, Ras Hafun, Cape Guardafui, Mount Shimbiris, Golis Mountains, Lag Badana-Bushbush National Park, Masjid al-Qiblatayn.
What is the flag of Somalia?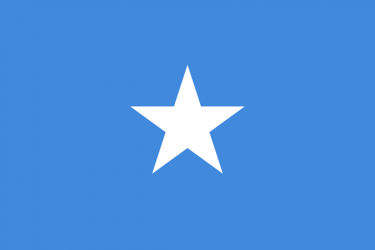 Flag of Somalia
What is the capital of Somalia?
The main city and capital of Somalia is Mogadishu.
What is the currency in Somalia?
Official currency of Somalia is Shilling.
What is the population of Somalia?
In Somalia there are 15935200 people.
What is international phone code in Somalia?
Somalia telephone code is 252.
Other Country Maps in Africa