Interactive Map of Saudi Arabia
Saudi Arabia is a Absolute monarchy founded in 1932 and located in the area of Asia, with a land area of 1960583 km² and population density of 18 people per km². Territory of Saudi Arabia borders Iraq, Jordan, Kuwait, Oman, Qatar, United Arab Emirates, Yemen. Gross domestic product (GDP) is of about 719000 millions of dollars dollars.
Geography of Saudi Arabia
Jabal Sawda is the highest point in Saudi Arabia at an altitude of 3000 meters, instead the lowest point in the country is Persian Gulf at sea level.
Simple Maps of Saudi Arabia
Here are the best maps of Saudi Arabia at high resolution. Below you find printable maps showing Saudi Arabia in different styles and positions.
Frequently asked questions about Saudi Arabia
How is Saudi Arabia divided?
If you are looking for regions or provinces in Saudi Arabia, here are all the main areas:
Ash Sharqiyah
Al Hudud ash Shamaliyah
Al Jawf
Najran
`Asir
Jizan
Tabuk
Al Madinah
Makkah
Ar Riyad
Al Quassim
Ha'il
Al Bahah
What are the main points of interest in Saudi Arabia?
The major tourist attractions in Saudi Arabia are Masjid al-Haram, Kaaba, Al Masjid an Nabawi, Abraj Al Bait Mall, Center Point, King Fahad's Fountain, Masmak Fortress, King Abdulaziz Historical Center (National Museum), Masjed Quba.
What is the flag of Saudi Arabia?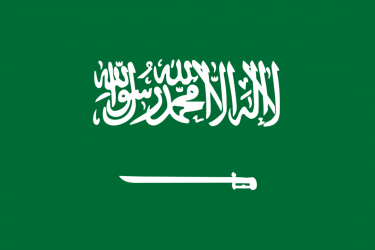 Flag of Saudi Arabia
What is the capital of Saudi Arabia?
The main city and capital of Saudi Arabia is Riyadh.
What is the currency in Saudi Arabia?
Official currency of Saudi Arabia is Rial.
What is the population of Saudi Arabia?
In Saudi Arabia there are 34864300 people.
What is international phone code in Saudi Arabia?
Saudi Arabia telephone code is 966.
Other Country Maps in Asia