Interactive Map of Syria
Syria is a Republic founded in 1961 and located in the area of Asia, with a land area of 183631 km² and population density of 96 people per km². Territory of Syria borders Iraq, Israel, Jordan, Lebanon, Turkey. Gross domestic product (GDP) is of about 37000 millions of dollars dollars.
Geography of Syria
Jabal el-Sheikh is the highest point in Syria at an altitude of 2814 meters, instead the lowest point in the country is Golan Heights at −214 m.
Simple Maps of Syria
Here are the best maps of Syria at high resolution. Below you find printable maps showing Syria in different styles and positions.
Frequently asked questions about Syria
How is Syria divided?
If you are looking for regions or provinces in Syria, here are all the main areas:
UNDOF
Homs (Hims)
Tartus
Rif Dimashq
Hasaka (Al Haksa)
Ar Raqqah
Aleppo
Idlib
Lattakia
As Suwayda'
Dar`a
Dayr Az Zawr
Quneitra
Hamah
Damascus
What are the main points of interest in Syria?
The major tourist attractions in Syria are Krak des Chevaliers, The Omayad Mosque, Aleppo Citadel, Al Hamra Street, Al Azem Palace, Temple of Bel, Arwad, Al-Hamidiyah Souq, Mount Qasioun.
What is the flag of Syria?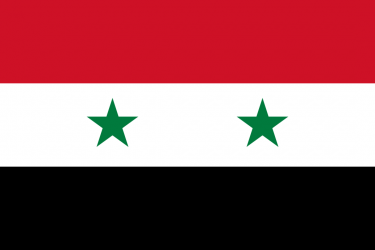 Flag of Syria
What is the capital of Syria?
The main city and capital of Syria is Damascus.
What is the currency in Syria?
Official currency of Syria is Pound.
What is the population of Syria?
In Syria there are 17540700 people.
What is international phone code in Syria?
Syria telephone code is 963.
Other Country Maps in Asia