Interactive Map of Yemen
Yemen is a Republic founded in 1990 and located in the area of Asia, with a land area of 527971 km² and population density of 57 people per km². Territory of Yemen borders Oman, Saudi Arabia. Gross domestic product (GDP) is of about 438900 millions of dollars dollars.
Geography of Yemen
Jabal An-Nabi Shu'ayb is the highest point in Yemen at an altitude of 3666 meters, instead the lowest point in the country is Arabian Sea at sea level.
Simple Maps of Yemen
Here are the best maps of Yemen at high resolution. Below you find printable maps showing Yemen in different styles and positions.
Frequently asked questions about Yemen
How is Yemen divided?
If you are looking for regions or provinces in Yemen, here are all the main areas:
Hadramawt
Al Mahrah
Sa`dah
Hajjah
Al Jawf
Al Hudaydah
Ta`izz
Lahij
`Adan
Abyan
Shabwah
Ma'rib
Sana'a
Raymah
Al Bayda'
Amran
Al Dali'
Ibb
Al Mahwit
Dhamar
Amanat Al Asimah
What are the main points of interest in Yemen?
The major tourist attractions in Yemen are Stone house (Dar Alhajar), جامع الصالح Al Saleh Mosque, Jabal Haraz, Marib Dam -The Great Dam of Marib, Dhofar Mountains, Detwah Lagoon Ramsar Site, The Great Mosque of Sana'a, Alsahareej (Water Tanks), Perim Island.
What is the flag of Yemen?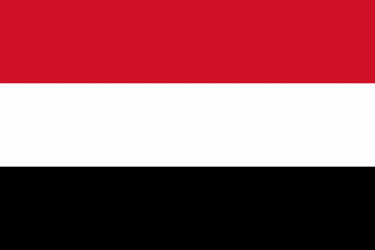 Flag of Yemen
What is the capital of Yemen?
The main city and capital of Yemen is Sanaa.
What is the currency in Yemen?
Official currency of Yemen is Rial.
What is the population of Yemen?
In Yemen there are 29887600 people.
What is international phone code in Yemen?
Yemen telephone code is 967.
Other Country Maps in Asia