Interactive Map of Sri Lanka
Sri Lanka is a Republic founded in 1948 and located in the area of Asia, with a land area of 65611 km² and population density of 326 people per km². Territory of Sri Lanka borders the sea. Gross domestic product (GDP) is of about 651200 millions of dollars dollars.
Geography of Sri Lanka
Pidurutalagala is the highest point in Sri Lanka at an altitude of 2524 meters, instead the lowest point in the country is Indian Ocean at sea level.
Simple Maps of Sri Lanka
Here are the best maps of Sri Lanka at high resolution. Below you find printable maps showing Sri Lanka in different styles and positions.
Frequently asked questions about Sri Lanka
How is Sri Lanka divided?
If you are looking for regions or provinces in Sri Lanka, here are all the main areas:
Basnāhira paḷāta
Vayamba paḷāta
Basnāhira paḷāta
Dakuṇu paḷāta
Madhyama paḷāta
Næ̆gĕnahira paḷāta
Sabaragamuva paḷāta
Uturu paḷāta
Uturumæ̆da paḷāta
Ūva paḷāta
Vayamba paḷāta
What are the main points of interest in Sri Lanka?
The major tourist attractions in Sri Lanka are Sigiriya Fortress, Dambulla Royal Cave Temple and Golden Temple, Yala National Park, Temple of the Sacred Tooth Relic, Galle Dutch Fort, Elephant Orphanage (Zoo), Horton Plains National Park, Sri Pada / Adam's Peak, Udawalawe National Park Safari.
What is the flag of Sri Lanka?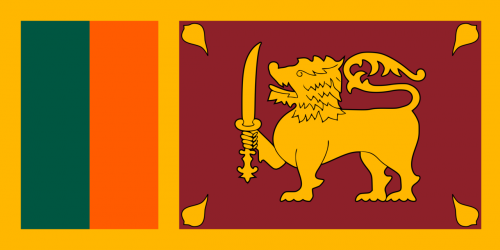 Flag of Sri Lanka
What is the capital of Sri Lanka?
The main city and capital of Sri Lanka is Colombo.
What is the currency in Sri Lanka?
Official currency of Sri Lanka is Rupee.
What is the population of Sri Lanka?
In Sri Lanka there are 21421500 people.
What is international phone code in Sri Lanka?
Sri Lanka telephone code is 94.
Other Country Maps in Asia