Interactive Map of Norway
Norway is a Constitutional monarchy founded in 1814 and located in the area of Europe, with a land area of 324221 km² and population density of 17 people per km². Territory of Norway borders Finland, Sweden, Russia. Gross domestic product (GDP) is of about 516000 millions of dollars dollars.
Geography of Norway
Galdhøpiggen is the highest point in Norway at an altitude of 2469 meters, instead the lowest point in the country is Norwegian Sea at sea level.
Simple Maps of Norway
Here are the best maps of Norway at high resolution. Below you find printable maps showing Norway in different styles and positions.
Frequently asked questions about Norway
How is Norway divided?
If you are looking for regions or provinces in Norway, here are all the main areas:
Troms
Nordland
Nord-Trøndelag
Sør-Trøndelag
Hedmark
Akershus
Østfold
Finnmark
Oslo
Buskerud
Vestfold
Telemark
Aust-Agder
Vest-Agder
Rogaland
Hordaland
Sogn og Fjordane
Møre og Romsdal
Svalbard
Bouvet Island
Oppland
What are the main points of interest in Norway?
The major tourist attractions in Norway are Geirangerfjord, Pulpit Rock, Bryggen, Trolltunga, Lysefjord, Flåmsbana, North Cape, The Vigeland Park, Viking Ship Museum.
What is the flag of Norway?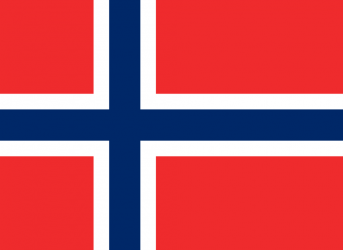 Flag of Norway
What is the capital of Norway?
The main city and capital of Norway is Oslo.
What is the currency in Norway?
Official currency of Norway is Krone.
What is the population of Norway?
In Norway there are 5425200 people.
What is international phone code in Norway?
Norway telephone code is 47.
Other Country Maps in Europe