Interactive Map of Poland
Poland is a Republic founded in 1918 and located in the area of Europe, with a land area of 312686 km² and population density of 121 people per km². Territory of Poland borders Belarus, Czech Republic, Germany, Lithuania, Russia, Slovakia, Ukraine. Gross domestic product (GDP) is of about 514000 millions of dollars dollars.
Geography of Poland
Northwestern peak of Rysy is the highest point in Poland at an altitude of 2499 meters, instead the lowest point in the country is Żuławy Wiślane at −2 m.
Simple Maps of Poland
Here are the best maps of Poland at high resolution. Below you find printable maps showing Poland in different styles and positions.
Frequently asked questions about Poland
How is Poland divided?
If you are looking for regions or provinces in Poland, here are all the main areas:
Silesian
Lesser Poland
Subcarpathian
Lower Silesian
Opole
Podlachian
Warmian-Masurian
Lubusz
West Pomeranian
Lublin
Pomeranian
Masovian
Łódź
Kuyavian-Pomeranian
Greater Poland
Świętokrzyskie
What are the main points of interest in Poland?
The major tourist attractions in Poland are Wieliczka Salt Mine, Wawel Royal Castle, Memorial and Museum Auschwitz-Birkenau, The Royal Castle in Warsaw, Łazienki Park, The Cloth Hall, St. Mary's Basilica, Wawel Cathedral, Malbork Castle.
What is the flag of Poland?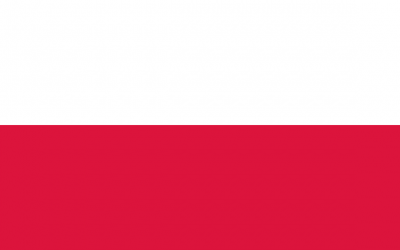 Flag of Poland
What is the capital of Poland?
The main city and capital of Poland is Warsaw.
What is the currency in Poland?
Official currency of Poland is Zloty.
What is the population of Poland?
In Poland there are 37842900 people.
What is international phone code in Poland?
Poland telephone code is 48.
Other Country Maps in Europe