Interactive Map of Morocco
Morocco is a Constitutional monarchy founded in 1956 and located in the area of Africa, with a land area of 446551 km² and population density of 83 people per km². Territory of Morocco borders Algeria, Western Sahara, Spain. Gross domestic product (GDP) is of about 105000 millions of dollars dollars.
Geography of Morocco
Jbel Toubkal is the highest point in Morocco at an altitude of 4165 meters, instead the lowest point in the country is Sebkha Tah at −55 m.
Simple Maps of Morocco
Here are the best maps of Morocco at high resolution. Below you find printable maps showing Morocco in different styles and positions.
Frequently asked questions about Morocco
How is Morocco divided?
If you are looking for regions or provinces in Morocco, here are all the main areas:
Guelmim – Es-Semara
Laâyoune – Boujdour – Sakia El Hamra
Oued el Dahab
Tanger – Tétouan
Oriental
Meknès – Tafilalet
Souss – Massa – Draâ
Taza – Al Hoceima – Taounate
Gharb – Chrarda – Béni Hssen
Rabat – Salé – Zemmour – Zaer
Chaouia – Ouardigha
Grand Casablanca
Doukkala – Abda
Marrakech – Tensift – Al Haouz
Fès – Boulemane
Tadla – Azilal
What are the main points of interest in Morocco?
The major tourist attractions in Morocco are Jemaa el-Fna, Jardin Majorelle, Bahia Palace, Koutoubia, Hassan II Mosque, Ouzoud Falls, Saadien's Tombs, Todra River, El Badii Palace.
What is the flag of Morocco?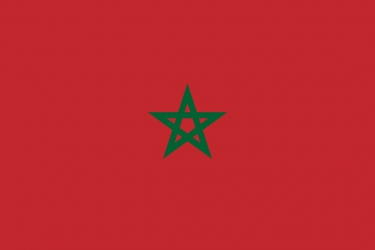 Flag of Morocco
What is the capital of Morocco?
The main city and capital of Morocco is Rabat.
What is the currency in Morocco?
Official currency of Morocco is Dirham.
What is the population of Morocco?
In Morocco there are 36951100 people.
What is international phone code in Morocco?
Morocco telephone code is 212.
Other Country Maps in Africa