Interactive Map of Jamaica
Jamaica is a Constitutional monarchy founded in 1962 and located in the area of North America, with a land area of 10992 km² and population density of 270 people per km². Territory of Jamaica borders the sea. Gross domestic product (GDP) is of about 143900 millions of dollars dollars.
Geography of Jamaica
Blue Mountain Peak is the highest point in Jamaica at an altitude of 2256 meters, instead the lowest point in the country is Caribbean Sea at sea level.
Simple Maps of Jamaica
Here are the best maps of Jamaica at high resolution. Below you find printable maps showing Jamaica in different styles and positions.
Frequently asked questions about Jamaica
How is Jamaica divided?
If you are looking for regions or provinces in Jamaica, here are all the main areas:
Saint Ann
Trelawny
Saint James
Hanover
Westmoreland
Saint Elizabeth
Manchester
Clarendon
Saint Catherine
Saint Andrew
Kingston
Saint Thomas
Portland
Saint Mary
What are the main points of interest in Jamaica?
The major tourist attractions in Jamaica are Dunn's River Falls & Park, Rose Hall Great House, Bob Marley Museum, Dolphin Cove Ocho Rios, Blue Mountains, Doctor's Cave Bathing Club, Mystic Mountain, Green Grotto Caves, Mayfield Falls.
What is the flag of Jamaica?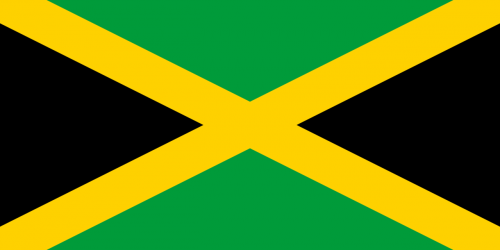 Flag of Jamaica
What is the capital of Jamaica?
The main city and capital of Jamaica is Kingston.
What is the currency in Jamaica?
Official currency of Jamaica is Dollar.
What is the population of Jamaica?
In Jamaica there are 2962400 people.
What is international phone code in Jamaica?
Jamaica telephone code is 1-876.
Other Country Maps in North America