Interactive Map of Ghana
Ghana is a Republic founded in 1957 and located in the area of Africa, with a land area of 239461 km² and population density of 130 people per km². Territory of Ghana borders Burkina Faso, Côte d'Ivoire, Togo. Gross domestic product (GDP) is of about 455500 millions of dollars dollars.
Geography of Ghana
Mount Afadjato is the highest point in Ghana at an altitude of 880 meters, instead the lowest point in the country is Gulf of Guinea at sea level.
Simple Maps of Ghana
Here are the best maps of Ghana at high resolution. Below you find printable maps showing Ghana in different styles and positions.
Frequently asked questions about Ghana
How is Ghana divided?
If you are looking for regions or provinces in Ghana, here are all the main areas:
Upper East
Northern
Volta
Brong Ahafo
Western
Upper West
Central
Greater Accra
Ashanti
Eastern
What are the main points of interest in Ghana?
The major tourist attractions in Ghana are Kakum National Park, Mole National Park, Cape Coast Castle, Elmina Castle, Labadi Beach, Kwame Nkrumah Memorial Park & Mausoleum, Wli Waterfalls, Aburi Botanical Garden, Black Star Square.
What is the flag of Ghana?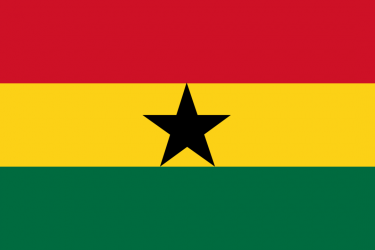 Flag of Ghana
What is the capital of Ghana?
The main city and capital of Ghana is Accra.
What is the currency in Ghana?
Official currency of Ghana is Cedi.
What is the population of Ghana?
In Ghana there are 31133700 people.
What is international phone code in Ghana?
Ghana telephone code is 233.
Other Country Maps in Africa