Interactive Map of Eritrea
Eritrea is a Republic founded in 1993 and located in the area of Africa, with a land area of 121321 km² and population density of 29 people per km². Territory of Eritrea borders Djibouti, Ethiopia, Sudan. Gross domestic product (GDP) is of about 343800 millions of dollars dollars.
Geography of Eritrea
Emba Soira is the highest point in Eritrea at an altitude of 3018 meters, instead the lowest point in the country is Lake Kulul at −75 m.
Simple Maps of Eritrea
Here are the best maps of Eritrea at high resolution. Below you find printable maps showing Eritrea in different styles and positions.
Frequently asked questions about Eritrea
How is Eritrea divided?
If you are looking for regions or provinces in Eritrea, here are all the main areas:
Debubawi Keyih Bahri
Debub
Semenawi Keyih Bahri
Gash Barka
Maekel
Anseba
What are the main points of interest in Eritrea?
The major tourist attractions in Eritrea are Fiat Tagliero, Dahlak Kebir, ኣስመራ ካቴድራል | Cathedral Our Lady of the Rosary, Enda Mariam Orthodox Cathedral, Medebar Market, Emba Soira, Madote, Nabro Volcano, Khulafa al-Rashidun Mosque.
What is the flag of Eritrea?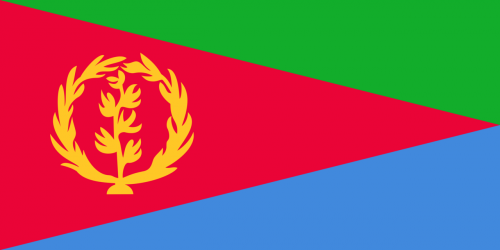 Flag of Eritrea
What is the capital of Eritrea?
The main city and capital of Eritrea is Asmara.
What is the currency in Eritrea?
Official currency of Eritrea is Nakfa.
What is the population of Eritrea?
In Eritrea there are 3551000 people.
What is international phone code in Eritrea?
Eritrea telephone code is 291.
Other Country Maps in Africa