Interactive Map of Denmark
Denmark is a Constitutional monarchy founded in 1397 and located in the area of Europe, with a land area of 43095 km² and population density of 138 people per km². Territory of Denmark borders Germany. Gross domestic product (GDP) is of about 324000 millions of dollars dollars.
Geography of Denmark
Møllehøj is the highest point in Denmark at an altitude of 171 meters, instead the lowest point in the country is Lammefjord at −7 m.
Simple Maps of Denmark
Here are the best maps of Denmark at high resolution. Below you find printable maps showing Denmark in different styles and positions.
Frequently asked questions about Denmark
How is Denmark divided?
If you are looking for regions or provinces in Denmark, here are all the main areas:
Syddanmark
Midtjylland
Nordjylland
Sjaælland
Hovedstaden
What are the main points of interest in Denmark?
The major tourist attractions in Denmark are Tivoli Gardens, Nyhavn, The Little Mermaid, Amalienborg, Rosenborg Castle, Christiansborg Palace, Kronborg, The Round Tower, LEGOLAND® Billund Resort.
What is the flag of Denmark?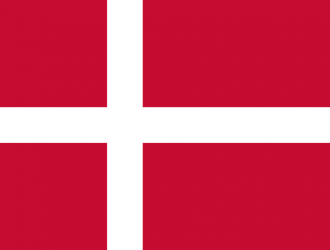 Flag of Denmark
What is the capital of Denmark?
The main city and capital of Denmark is Copenhagen.
What is the currency in Denmark?
Official currency of Denmark is Krone.
What is the population of Denmark?
In Denmark there are 5950000 people.
What is international phone code in Denmark?
Denmark telephone code is 45.
Other Country Maps in Europe