Interactive Map of Cuba
Cuba is a Republic founded in 1868 and located in the area of North America, with a land area of 110861 km² and population density of 102 people per km². Territory of Cuba borders the sea. Gross domestic product (GDP) is of about 723000 millions of dollars dollars.
Geography of Cuba
Pico Turquino is the highest point in Cuba at an altitude of 1974 meters, instead the lowest point in the country is Caribbean Sea at sea level.
Simple Maps of Cuba
Here are the best maps of Cuba at high resolution. Below you find printable maps showing Cuba in different styles and positions.
Frequently asked questions about Cuba
How is Cuba divided?
If you are looking for regions or provinces in Cuba, here are all the main areas:
Guantánamo
Camagüey
Ciego de Ávila
Holguín
Isla de la Juventud
Sancti Spíritus
Villa Clara
Matanzas
Las Tunas
Mayabeque
Ciudad de la Habana
Artemisa
Pinar del Río
Cienfuegos
Granma
Santiago de Cuba
What are the main points of interest in Cuba?
The major tourist attractions in Cuba are Malecon, Viñales Valley, National Capitol building, Castillo De Los Tres Reyes Del Morro, Cayo Largo del Sur, Revolution Museum, La Bodeguita Del Medio, Paseo del Prado, Plaza de la Catedral.
What is the flag of Cuba?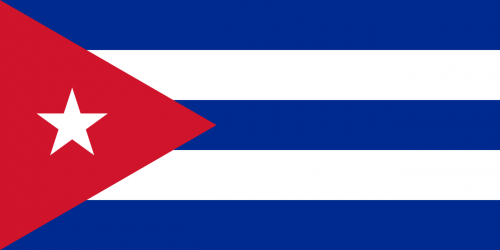 Flag of Cuba
What is the capital of Cuba?
The main city and capital of Cuba is Havana.
What is the currency in Cuba?
Official currency of Cuba is Peso.
What is the population of Cuba?
In Cuba there are 11326000 people.
What is international phone code in Cuba?
Cuba telephone code is 53.
Other Country Maps in North America