Interactive Map of Colombia
Colombia is a Republic founded in 1810 and located in the area of South America, with a land area of 1138911 km² and population density of 45 people per km². Territory of Colombia borders Brazil, Ecuador, Panama, Peru, Venezuela. Gross domestic product (GDP) is of about 369000 millions of dollars dollars.
Geography of Colombia
Pico Cristóbal Colón is the highest point in Colombia at an altitude of 5700 meters, instead the lowest point in the country is North Pacific Ocean at sea level.
Simple Maps of Colombia
Here are the best maps of Colombia at high resolution. Below you find printable maps showing Colombia in different styles and positions.
Frequently asked questions about Colombia
How is Colombia divided?
If you are looking for regions or provinces in Colombia, here are all the main areas:
Nariño
Putumayo
Chocó
Guainía
Vaupés
Amazonas
La Guajira
Cesar
Norte de Santander
Arauca
Boyacá
Vichada
Cauca
Valle del Cauca
Antioquia
Córdoba
Sucre
Bolívar
Atlántico
Magdalena
San Andrés y Providencia
Caquetá
Huila
Guaviare
Caldas
Casanare
Meta
Bogota
Santander
Tolima
Quindío
Cundinamarca
Risaralda
What are the main points of interest in Colombia?
The major tourist attractions in Colombia are Parque Nacional Natural Tayrona, Gold Museum, Catedral de Sal, Rosario Islands, Cocora Valley, Monserrate, Lost City, Castillo de San Felipe de Barajas, El Peñón de Guatapé.
What is the flag of Colombia?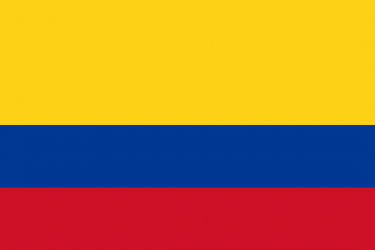 Flag of Colombia
What is the capital of Colombia?
The main city and capital of Colombia is Bogota.
What is the currency in Colombia?
Official currency of Colombia is Peso.
What is the population of Colombia?
In Colombia there are 50933000 people.
What is international phone code in Colombia?
Colombia telephone code is 57.
Other Country Maps in South America