Interactive Map of Paraguay
Paraguay is a Republic founded in 1811 and located in the area of South America, with a land area of 406751 km² and population density of 18 people per km². Territory of Paraguay borders Argentina, Bolivia, Brazil. Gross domestic product (GDP) is of about 305600 millions of dollars dollars.
Geography of Paraguay
Cerro Peró is the highest point in Paraguay at an altitude of 842 meters, instead the lowest point in the country is Paraguay River at 46 m.
Simple Maps of Paraguay
Here are the best maps of Paraguay at high resolution. Below you find printable maps showing Paraguay in different styles and positions.
Frequently asked questions about Paraguay
How is Paraguay divided?
If you are looking for regions or provinces in Paraguay, here are all the main areas:
Boquerón
Presidente Hayes
Central
Asunción
Alto Paraná
Itapúa
Ñeembucú
Misiones
Alto Paraguay
Concepción
Amambay
Canindeyú
San Pedro
Caaguazú
Cordillera
Caazapá
Paraguarí
Guairá
What are the main points of interest in Paraguay?
The major tourist attractions in Paraguay are Itaipu Dam, Triple Frontier, Monday's Falls, Misión Jesuítica de la Santísima Trinidad, Friendship Bridge, Palacio de López, The National Pantheon of Heroes and Oratory of the Virgin Our Lady Saint Mary of the Asuncion, Ypacaraí Lake, Independence House Museum.
What is the flag of Paraguay?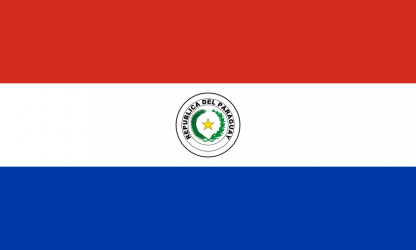 Flag of Paraguay
What is the capital of Paraguay?
The main city and capital of Paraguay is Asuncion.
What is the currency in Paraguay?
Official currency of Paraguay is Guarani.
What is the population of Paraguay?
In Paraguay there are 7140700 people.
What is international phone code in Paraguay?
Paraguay telephone code is 595.
Other Country Maps in South America