Interactive Map of Peru
Peru is a Republic founded in 1821 and located in the area of South America, with a land area of 1285221 km² and population density of 26 people per km². Territory of Peru borders Bolivia, Brazil, Chile, Colombia, Ecuador. Gross domestic product (GDP) is of about 210000 millions of dollars dollars.
Geography of Peru
Huascarán is the highest point in Peru at an altitude of 6768 meters, instead the lowest point in the country is Bayóvar Depression at −34 m.
Simple Maps of Peru
Here are the best maps of Peru at high resolution. Below you find printable maps showing Peru in different styles and positions.
Frequently asked questions about Peru
How is Peru divided?
If you are looking for regions or provinces in Peru, here are all the main areas:
Tacna
Madre de Dios
Loreto
Amazonas
Cajamarca
Tumbes
Piura
Ucayali
Puno
Moquegua
Arequipa
Ica
Lima
Lima Province
Callao
Áncash
La Libertad
Lambayeque
Cusco
Ayacucho
Apurímac
Huancavelica
San Martín
Huánuco
Pasco
Junín
What are the main points of interest in Peru?
The major tourist attractions in Peru are Machu Picchu, Sacred Valley, Colca Canyon, Saqsaywaman, Qorikancha, Moray, Huayna Picchu, Salcantay, Choquequirao Archaeological Park.
What is the flag of Peru?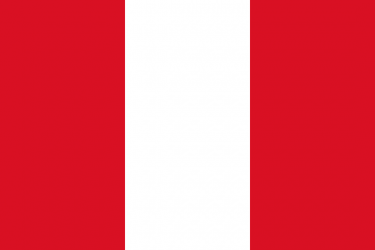 Flag of Peru
What is the capital of Peru?
The main city and capital of Peru is Lima.
What is the currency in Peru?
Official currency of Peru is Sol.
What is the population of Peru?
In Peru there are 33014500 people.
What is international phone code in Peru?
Peru telephone code is 51.
Other Country Maps in South America