Interactive Map of Ecuador
Ecuador is a Republic founded in 1822 and located in the area of South America, with a land area of 283561 km² and population density of 62 people per km². Territory of Ecuador borders Colombia, Peru. Gross domestic product (GDP) is of about 914100 millions of dollars dollars.
Geography of Ecuador
Chimborazo is the highest point in Ecuador at an altitude of 6267 meters, instead the lowest point in the country is Pacific Ocean at sea level.
Simple Maps of Ecuador
Here are the best maps of Ecuador at high resolution. Below you find printable maps showing Ecuador in different styles and positions.
Frequently asked questions about Ecuador
How is Ecuador divided?
If you are looking for regions or provinces in Ecuador, here are all the main areas:
Esmeraldas
Carchi
Sucumbios
Orellana
Pastaza
Morona Santiago
Zamora Chinchipe
Loja
El Oro
Guayas
Galápagos
Santa Elena
Manabi
Azuay
Cañar
Napo
Tungurahua
Chimborazo
Bolivar
Imbabura
Cotopaxi
Los Rios
Pichincha
Santo Domingo de los Tsáchilas
What are the main points of interest in Ecuador?
The major tourist attractions in Ecuador are Middle of the World, Cotopaxi, Quilotoa Lake, Bartolomé Island, Chimborazo, Cotopaxi National Park, North Seymour Island, Parque Nacional Cajas, Charles Darwin Research Station.
What is the flag of Ecuador?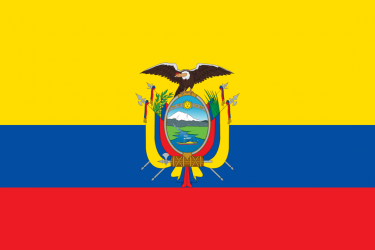 Flag of Ecuador
What is the capital of Ecuador?
The main city and capital of Ecuador is Quito.
What is the currency in Ecuador?
Official currency of Ecuador is Dollar.
What is the population of Ecuador?
In Ecuador there are 17668000 people.
What is international phone code in Ecuador?
Ecuador telephone code is 593.
Other Country Maps in South America