Interactive Map of Chad
Chad is a Republic founded in 1960 and located in the area of Africa, with a land area of 1284001 km² and population density of 13 people per km². Territory of Chad borders Cameroon, Central African Republic, Libya, Niger, Nigeria, Sudan. Gross domestic product (GDP) is of about 135900 millions of dollars dollars.
Geography of Chad
Emi Koussi is the highest point in Chad at an altitude of 3445 meters, instead the lowest point in the country is Djourab Depression at 160 m.
Simple Maps of Chad
Here are the best maps of Chad at high resolution. Below you find printable maps showing Chad in different styles and positions.
Frequently asked questions about Chad
How is Chad divided?
If you are looking for regions or provinces in Chad, here are all the main areas:
Lac
Sila
Salamat
Moyen-Chari
Mandoul
Logone Oriental
Hadjer-Lamis
Chari-Baguirmi
Ville de N'Djamena
Mayo-Kebbi Est
Mayo-Kebbi Ouest
Ennedi
Borkou
Tibesti
Kanem
Ouaddaï
Wadi Fira
Barh El Gazel
Tandjilé
Logone Occidental
Guéra
Batha
What are the main points of interest in Chad?
The major tourist attractions in Chad are Zakouma National Park, Ennedi Plateau, Emi Koussi, Guelta d'Archei Lake, Aloba Arch, Toussidé, Chad National Museum, Bikku Bitti, Lake Yoa.
What is the flag of Chad?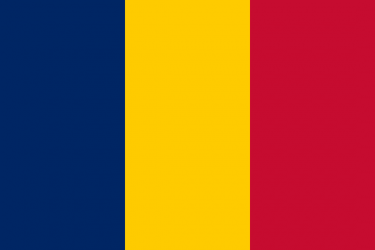 Flag of Chad
What is the capital of Chad?
The main city and capital of Chad is N'Djamena.
What is the currency in Chad?
Official currency of Chad is Franc.
What is the population of Chad?
In Chad there are 16425800 people.
What is international phone code in Chad?
Chad telephone code is 235.
Other Country Maps in Africa