Interactive Map of Cameroon
Cameroon is a Republic founded in 1960 and located in the area of Africa, with a land area of 475441 km² and population density of 56 people per km². Territory of Cameroon borders Central African Republic, Chad, Republic of the Congo, Equatorial Guinea, Gabon, Nigeria. Gross domestic product (GDP) is of about 278800 millions of dollars dollars.
Geography of Cameroon
Mount Cameroon is the highest point in Cameroon at an altitude of 4040 meters, instead the lowest point in the country is Bight of Bonny at sea level.
Simple Maps of Cameroon
Here are the best maps of Cameroon at high resolution. Below you find printable maps showing Cameroon in different styles and positions.
Frequently asked questions about Cameroon
How is Cameroon divided?
If you are looking for regions or provinces in Cameroon, here are all the main areas:
Sud
Extrême-Nord
Nord
Adamaoua
Nord-Ouest
Sud-Ouest
Est
Littoral
Ouest
Centre
What are the main points of interest in Cameroon?
The major tourist attractions in Cameroon are Mount Cameroon, Waza National Park, Dja Faunal Reserve, Korup National Park, Lobé Falls, Lobéké National Park, Campo Reserve, Reunification Monument, Benoue National Park.
What is the flag of Cameroon?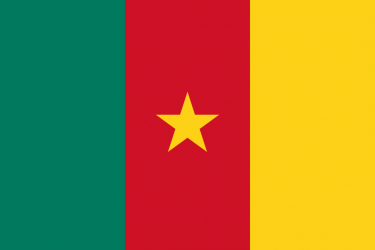 Flag of Cameroon
What is the capital of Cameroon?
The main city and capital of Cameroon is Yaounde.
What is the currency in Cameroon?
Official currency of Cameroon is Franc.
What is the population of Cameroon?
In Cameroon there are 26608100 people.
What is international phone code in Cameroon?
Cameroon telephone code is 237.
Other Country Maps in Africa