Interactive Map of Brunei
Brunei is a Absolute monarchy founded in 1984 and located in the area of Asia, with a land area of 5771 km² and population density of 76 people per km². Territory of Brunei borders Malaysia. Gross domestic product (GDP) is of about 165600 millions of dollars dollars.
Geography of Brunei
Bukit Pagon is the highest point in Brunei at an altitude of 1850 meters, instead the lowest point in the country is South China Sea at sea level.
Simple Maps of Brunei
Here are the best maps of Brunei at high resolution. Below you find printable maps showing Brunei in different styles and positions.
Frequently asked questions about Brunei
How is Brunei divided?
If you are looking for regions or provinces in Brunei, here are all the main areas:
Temburong
Brunei and Muara
Tutong
Belait
What are the main points of interest in Brunei?
The major tourist attractions in Brunei are Omar Ali Saifuddien Mosque, Istana Nurul Iman, Jerudong Park Playground, Ulu Temburong National Park, Royal Regalia Museum, Jame' Asr Hassanil Bolkiah Mosque, Gadong Night Market, Malay Technology Museum, Billionth Barrel Monument.
What is the flag of Brunei?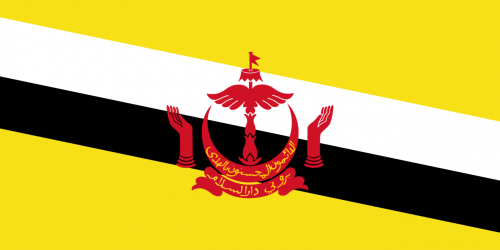 Flag of Brunei
What is the capital of Brunei?
The main city and capital of Brunei is Bandar Seri Begawan.
What is the currency in Brunei?
Official currency of Brunei is Dollar.
What is the population of Brunei?
In Brunei there are 437900 people.
What is international phone code in Brunei?
Brunei telephone code is 673.
Other Country Maps in Asia