Interactive Map of Cambodia
Cambodia is a Constitutional monarchy founded in 1953 and located in the area of Asia, with a land area of 181041 km² and population density of 92 people per km². Territory of Cambodia borders Laos, Thailand, Vietnam. Gross domestic product (GDP) is of about 156400 millions of dollars dollars.
Geography of Cambodia
Phnom Aural is the highest point in Cambodia at an altitude of 1810 meters, instead the lowest point in the country is Gulf of Thailand at sea level.
Simple Maps of Cambodia
Here are the best maps of Cambodia at high resolution. Below you find printable maps showing Cambodia in different styles and positions.
Frequently asked questions about Cambodia
How is Cambodia divided?
If you are looking for regions or provinces in Cambodia, here are all the main areas:
Rôtânôkiri
Môndól Kiri
Krâchéh
Kâmpóng Cham
Svay Rieng
Prey Vêng
Kândal
Takêv
Kâmpôt
Otdar Mean Chey
Preah Vihéar
Siemréab
Bântéay Méanchey
Kaôh Kong
Pouthisat
Batdâmbâng
Krong Pailin
Stœng Trêng
Krong Preah Sihanouk
Kep
Kâmpóng Chhnang
Kâmpóng Thum
Kâmpóng Spœ
Phnom Penh
What are the main points of interest in Cambodia?
The major tourist attractions in Cambodia are Angkor Wat, Bayon Temple, Ta Prohm Temple, Angkor Thom, Royal Palace, Wat Phnom, Prasat Beng Mealea, Central Market, Preah Vihear Preah Keo Morakot..
What is the flag of Cambodia?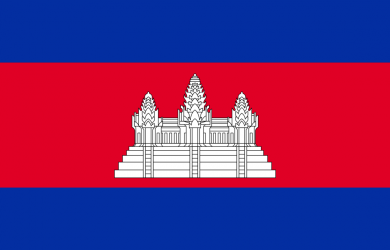 Flag of Cambodia
What is the capital of Cambodia?
The main city and capital of Cambodia is Phnom Penh.
What is the currency in Cambodia?
Official currency of Cambodia is Riels.
What is the population of Cambodia?
In Cambodia there are 16740500 people.
What is international phone code in Cambodia?
Cambodia telephone code is 855.
Other Country Maps in Asia