Interactive Map of Brazil
Brazil is a Republic founded in 1822 and located in the area of South America, with a land area of 8511966 km² and population density of 25 people per km². Territory of Brazil borders Argentina, Bolivia, Colombia, French Guiana, Guyana, Paraguay, Peru, Suriname, Uruguay, Venezuela. Gross domestic product (GDP) is of about 219000 millions of dollars dollars.
Geography of Brazil
Pico da Neblina is the highest point in Brazil at an altitude of 2995 meters, instead the lowest point in the country is Atlantic Ocean at sea level.
Simple Maps of Brazil
Here are the best maps of Brazil at high resolution. Below you find printable maps showing Brazil in different styles and positions.
Frequently asked questions about Brazil
How is Brazil divided?
If you are looking for regions or provinces in Brazil, here are all the main areas:
Rio Grande do Sul
Roraima
Pará
Acre
Amapá
Mato Grosso do Sul
Paraná
Santa Catarina
Amazonas
Rondônia
Mato Grosso
Maranhão
Piauí
Ceará
Rio Grande do Norte
Paraíba
Pernambuco
Alagoas
Sergipe
Bahia
Espírito Santo
Rio de Janeiro
São Paulo
Goiás
Distrito Federal
Minas Gerais
Tocantins
What are the main points of interest in Brazil?
The major tourist attractions in Brazil are Christ the Redeemer, Sugarloaf Mountain, Corcovado, Fernando de Noronha, Parque Nacional dos Lençóis Maranhenses, Escadaria Selarón, Ibirapuera Park, Tijuca National Park, Museum of Art of São Paulo Assis Chateaubriand.
What is the flag of Brazil?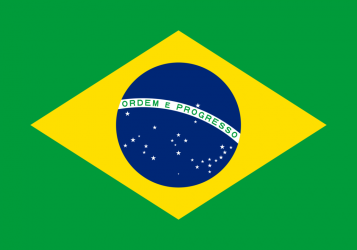 Flag of Brazil
What is the capital of Brazil?
The main city and capital of Brazil is Brasilia.
What is the currency in Brazil?
Official currency of Brazil is Real.
What is the population of Brazil?
In Brazil there are 212698300 people.
What is international phone code in Brazil?
Brazil telephone code is 55.
Other Country Maps in South America