Interactive Map of Chile
Chile is a Republic founded in 1810 and located in the area of South America, with a land area of 756951 km² and population density of 25 people per km². Territory of Chile borders Argentina, Bolivia, Peru. Gross domestic product (GDP) is of about 282000 millions of dollars dollars.
Geography of Chile
Ojos del Salado is the highest point in Chile at an altitude of 6893 meters, instead the lowest point in the country is South Pacific Ocean at sea level.
Simple Maps of Chile
Here are the best maps of Chile at high resolution. Below you find printable maps showing Chile in different styles and positions.
Frequently asked questions about Chile
How is Chile divided?
If you are looking for regions or provinces in Chile, here are all the main areas:
Arica y Parinacota
Tarapacá
Antofagasta
Atacama
Coquimbo
Región Metropolitana de Santiago
Valparaíso
Maule
Libertador General Bernardo O'Higgins
Bío-Bío
La Araucanía
Los Ríos
Los Lagos
Aisén del General Carlos Ibáñez del Campo
Magallanes y Antártica Chilena
What are the main points of interest in Chile?
The major tourist attractions in Chile are Valle de la Luna, El Tatio, San Cristóbal Hill, Cape Horn, Santa Lucía Hill, Plaza de Armas, La Moneda Palace, Valle Nevado, Villarrica.
What is the flag of Chile?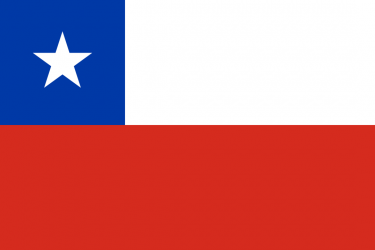 Flag of Chile
What is the capital of Chile?
The main city and capital of Chile is Santiago.
What is the currency in Chile?
Official currency of Chile is Peso.
What is the population of Chile?
In Chile there are 19116000 people.
What is international phone code in Chile?
Chile telephone code is 56.
Other Country Maps in South America