Interactive Map of Argentina
Argentina is a Republic founded in 1810 and located in the area of South America, with a land area of 2766891 km² and population density of 16 people per km². Territory of Argentina borders Bolivia, Brazil, Chile, Paraguay, Uruguay. Gross domestic product (GDP) is of about 485000 millions of dollars dollars.
Geography of Argentina
Aconcagua is the highest point in Argentina at an altitude of 6960 meters, instead the lowest point in the country is Laguna del Carbón at −105 m.
Simple Maps of Argentina
Here are the best maps of Argentina at high resolution. Below you find printable maps showing Argentina in different styles and positions.
Frequently asked questions about Argentina
How is Argentina divided?
If you are looking for regions or provinces in Argentina, here are all the main areas:
Entre Ríos
Salta
Jujuy
Formosa
Misiones
Chaco
Corrientes
Catamarca
La Rioja
San Juan
Mendoza
Neuquén
Chubut
Río Negro
Santa Cruz
Tierra del Fuego
Buenos Aires
Ciudad de Buenos Aires
Santa Fe
Tucumán
Santiago del Estero
San Luis
La Pampa
Córdoba
What are the main points of interest in Argentina?
The major tourist attractions in Argentina are Parque Nacional Los Glaciares, Aconcagua, Plaza de Mayo, Recoleta Cemetery, Casa Rosada, Iguazú National Park, Caminito, Devil's Throat, Teatro Colón.
What is the flag of Argentina?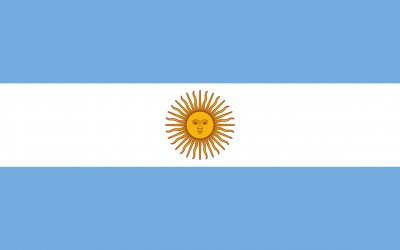 Flag of Argentina
What is the capital of Argentina?
The main city and capital of Argentina is Buenos Aires.
What is the currency in Argentina?
Official currency of Argentina is Peso.
What is the population of Argentina?
In Argentina there are 45234000 people.
What is international phone code in Argentina?
Argentina telephone code is 54.
Other Country Maps in South America