Interactive Map of Uruguay
Uruguay is a Republic founded in 1825 and located in the area of South America, with a land area of 176221 km² and population density of 20 people per km². Territory of Uruguay borders Argentina, Brazil. Gross domestic product (GDP) is of about 571100 millions of dollars dollars.
Geography of Uruguay
Cerro Catedral is the highest point in Uruguay at an altitude of 514 meters, instead the lowest point in the country is South Atlantic Ocean at sea level.
Simple Maps of Uruguay
Here are the best maps of Uruguay at high resolution. Below you find printable maps showing Uruguay in different styles and positions.
Frequently asked questions about Uruguay
How is Uruguay divided?
If you are looking for regions or provinces in Uruguay, here are all the main areas:
Paysandú
Artigas
Salto
Rivera
Cerro Largo
Rocha
Treinta y Tres
Maldonado
Canelones
Montevideo
San José
Colonia
Soriano
Río Negro
Tacuarembó
Durazno
Flores
Florida
Lavalleja
What are the main points of interest in Uruguay?
The major tourist attractions in Uruguay are Plaza Independencia, Casapueblo, Salvo Palace, Punta Ballena, The Fingers of Punta del Este, Santa Teresa National Park, Isla de Lobos, Mercado del Puerto, Gorriti Island.
What is the flag of Uruguay?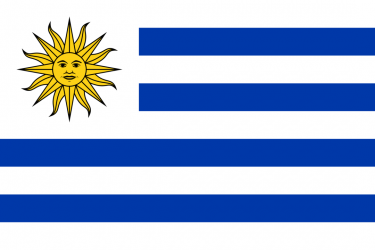 Flag of Uruguay
What is the capital of Uruguay?
The main city and capital of Uruguay is Montevideo.
What is the currency in Uruguay?
Official currency of Uruguay is Peso.
What is the population of Uruguay?
In Uruguay there are 3474900 people.
What is international phone code in Uruguay?
Uruguay telephone code is 598.
Other Country Maps in South America