Interactive Map of Turkmenistan
Turkmenistan is a Republic founded in 1875 and located in the area of Asia, with a land area of 488101 km² and population density of 12 people per km². Territory of Turkmenistan borders Afghanistan, Iran, Kazakhstan, Uzbekistan. Gross domestic product (GDP) is of about 405600 millions of dollars dollars.
Geography of Turkmenistan
Aýrybaba is the highest point in Turkmenistan at an altitude of 3139 meters, instead the lowest point in the country is Vpadina Akchanaya at −81 m.
Simple Maps of Turkmenistan
Here are the best maps of Turkmenistan at high resolution. Below you find printable maps showing Turkmenistan in different styles and positions.
Frequently asked questions about Turkmenistan
How is Turkmenistan divided?
If you are looking for regions or provinces in Turkmenistan, here are all the main areas:
Chardzhou
Mary
Ahal
Balkan
Tashauz
What are the main points of interest in Turkmenistan?
The major tourist attractions in Turkmenistan are Darvaza Gas Crater, Karakum Desert, Independence Monument, Monument of Neutrality, Türkmenbaşy Ruhy Metjidi Gypjak Mosque مسجد, Gonur Tepe, Ertugrul Gazi Mosque, Mausoleum of Soltan Sanjar, Turkmen Carpet Museum.
What is the flag of Turkmenistan?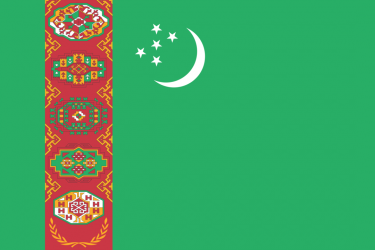 Flag of Turkmenistan
What is the capital of Turkmenistan?
The main city and capital of Turkmenistan is Ashgabat.
What is the currency in Turkmenistan?
Official currency of Turkmenistan is Manat.
What is the population of Turkmenistan?
In Turkmenistan there are 6039500 people.
What is international phone code in Turkmenistan?
Turkmenistan telephone code is 993.
Other Country Maps in Asia