Interactive Map of Romania
Romania is a Republic founded in 1877 and located in the area of Europe, with a land area of 237501 km² and population density of 81 people per km². Territory of Romania borders Bulgaria, Hungary, Moldova, Serbia, Ukraine. Gross domestic product (GDP) is of about 189000 millions of dollars dollars.
Geography of Romania
Moldoveanu is the highest point in Romania at an altitude of 2544 meters, instead the lowest point in the country is Black Sea at sea level.
Simple Maps of Romania
Here are the best maps of Romania at high resolution. Below you find printable maps showing Romania in different styles and positions.
Frequently asked questions about Romania
How is Romania divided?
If you are looking for regions or provinces in Romania, here are all the main areas:
Satu Mare
Arad
Bihor
Timis
Mehedinti
Dolj
Calarasi
Teleorman
Giurgiu
Constanta
Olt
Caras-Severin
Botosani
Iasi
Vaslui
Galati
Suceava
Maramures
Tulcea
Cluj
Bistrita-Nasaud
Salaj
Dâmbovita
Ilfov
Arges
Gorj
Hunedoara
Vâlcea
Prahova
Covasna
Vrancea
Buzau
Brasov
Sibiu
Mures
Harghita
Neamt
Bacau
Alba
Braila
Ialomita
Bucharest
What are the main points of interest in Romania?
The major tourist attractions in Romania are Bran Castle, Peleș Castle, Palace of Parliament, Castelul Corvinilor (Corvins' Castle), Black Church, Salina Turda, Romanian Athenaeum, Cetatea Râșnov, Iron Gates.
What is the flag of Romania?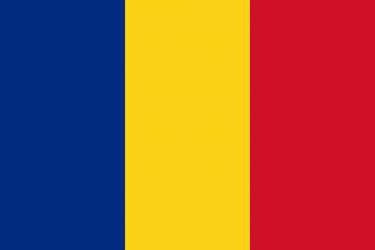 Flag of Romania
What is the capital of Romania?
The main city and capital of Romania is Bucharest.
What is the currency in Romania?
Official currency of Romania is Leu.
What is the population of Romania?
In Romania there are 19226200 people.
What is international phone code in Romania?
Romania telephone code is 40.
Other Country Maps in Europe