Interactive Map of Moldova
Moldova is a Republic founded in 1346 and located in the area of Europe, with a land area of 33852 km² and population density of 119 people per km². Territory of Moldova borders Romania, Ukraine. Gross domestic product (GDP) is of about 11500 millions of dollars dollars.
Geography of Moldova
Bălănești Hill is the highest point in Moldova at an altitude of 430 meters, instead the lowest point in the country is Dniester at 2 m.
Simple Maps of Moldova
Here are the best maps of Moldova at high resolution. Below you find printable maps showing Moldova in different styles and positions.
Frequently asked questions about Moldova
How is Moldova divided?
If you are looking for regions or provinces in Moldova, here are all the main areas:
Briceni
Edineţ
Rîşcani
Glodeni
Făleşti
Ungheni
Nisporeni
Hîncesti
Leova
Cantemir
Cahul
Ocniţa
Donduseni
Soroca
Camenca
Stîngă Nistrului
Grigoriopol
Bender
Ștefan Vodă
Causeni
Cimişlia
Basarabeasca
Taraclia
Comrat
Criuleni
Străşeni
Anenii Noi
Orhei
Transnistria
Chişinău
Teleneşti
Şoldăneşti
Floreşti
Rezina
Ialoveni
Călărași
Drochia
Sîngerei
Bălţi
What are the main points of interest in Moldova?
The major tourist attractions in Moldova are Cricova, Soroca Fortress, The Triumphal Arch, Stephen the Great Central Park, Stephen the Great Monument, Capriana Monastery, Mimi Castle, The Metropolitan Cathedral "Nativity of the Lord", National Museum of History of Moldova.
What is the flag of Moldova?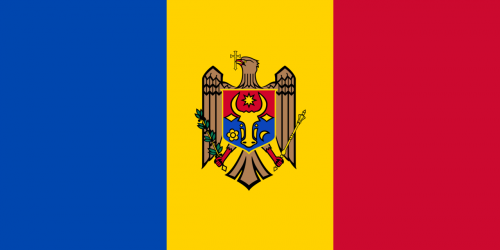 Flag of Moldova
What is the capital of Moldova?
The main city and capital of Moldova is Chisinau.
What is the currency in Moldova?
Official currency of Moldova is Leu.
What is the population of Moldova?
In Moldova there are 4033200 people.
What is international phone code in Moldova?
Moldova telephone code is 373.
Other Country Maps in Europe