Interactive Map of Kuwait
Kuwait is a Constitutional monarchy founded in 1961 and located in the area of Asia, with a land area of 17821 km² and population density of 240 people per km². Territory of Kuwait borders Iraq, Saudi Arabia. Gross domestic product (GDP) is of about 180000 millions of dollars dollars.
Geography of Kuwait
Mutla Ridge is the highest point in Kuwait at an altitude of 306 meters, instead the lowest point in the country is Persian Gulf at sea level.
Simple Maps of Kuwait
Here are the best maps of Kuwait at high resolution. Below you find printable maps showing Kuwait in different styles and positions.
Frequently asked questions about Kuwait
How is Kuwait divided?
If you are looking for regions or provinces in Kuwait, here are all the main areas:
Al Jahrah
Al Ahmadi
Mubarak Al-Kabeer
Hawalli
Al Asimah
Al Farwaniyah
What are the main points of interest in Kuwait?
The major tourist attractions in Kuwait are Kuwait Towers, Al Mubarakiya Cafe & Restaurant, The Grand Mosque of Kuwait, Liberation Tower, Green Island, Al Hamra Tower, Kuwait National Museum, The Scientific Center, Al Shaheed Park.
What is the flag of Kuwait?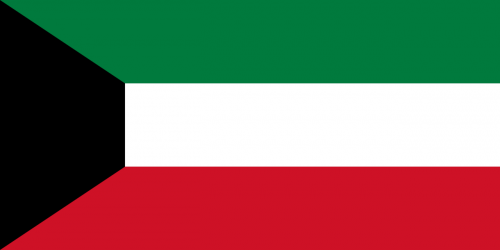 Flag of Kuwait
What is the capital of Kuwait?
The main city and capital of Kuwait is Kuwait City.
What is the currency in Kuwait?
Official currency of Kuwait is Dinar.
What is the population of Kuwait?
In Kuwait there are 4276500 people.
What is international phone code in Kuwait?
Kuwait telephone code is 965.
Other Country Maps in Asia