Interactive Map of Indonesia
Indonesia is a Republic founded in 1945 and located in the area of Asia, with a land area of 1919441 km² and population density of 143 people per km². Territory of Indonesia borders East Timor, Malaysia, Papua New Guinea. Gross domestic product (GDP) is of about 868000 millions of dollars dollars.
Geography of Indonesia
Puncak Jaya is the highest point in Indonesia at an altitude of 4884 meters, instead the lowest point in the country is Indian Ocean at sea level.
Simple Maps of Indonesia
Here are the best maps of Indonesia at high resolution. Below you find printable maps showing Indonesia in different styles and positions.
Frequently asked questions about Indonesia
How is Indonesia divided?
If you are looking for regions or provinces in Indonesia, here are all the main areas:
Kalimantan Timur
Nusa Tenggara Timur
Kalimantan Barat
Papua
Jawa Timur
Maluku
Nusa Tenggara Barat
Sulawesi Selatan
Jawa Tengah
Jawa Barat
Jakarta Raya
Banten
Yogyakarta
Sulawesi Tenggara
Papua Barat
Sulawesi Tengah
Maluku Utara
Kepulauan Riau
Riau
Gorontalo
Sulawesi Utara
Sulawesi Barat
Jambi
Sumatera Selatan
Lampung
Bengkulu
Sumatera Barat
Sumatera Utara
Aceh
Kalimantan Tengah
Kalimantan Selatan
Bali
Bangka-Belitung
What are the main points of interest in Indonesia?
The major tourist attractions in Indonesia are Tanah Lot, Uluwatu Temple, Seminyak, Borobudur Temple, Sanur, Mount Batur, Gili Islands, Sacred Monkey Forest Sanctuary, Mount Bromo.
What is the flag of Indonesia?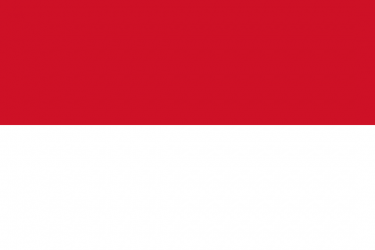 Flag of Indonesia
What is the capital of Indonesia?
The main city and capital of Indonesia is Jakarta.
What is the currency in Indonesia?
Official currency of Indonesia is Rupiah.
What is the population of Indonesia?
In Indonesia there are 273790600 people.
What is international phone code in Indonesia?
Indonesia telephone code is 62.
Other Country Maps in Asia