Interactive Map of Germany
Germany is a Republic founded in 1990 and located in the area of Europe, with a land area of 357022 km² and population density of 235 people per km². Territory of Germany borders Austria, Belgium, Czech Republic, Denmark, France, Luxembourg, Netherlands, Poland, Switzerland. Gross domestic product (GDP) is of about 359000 millions of dollars dollars.
Geography of Germany
Zugspitze is the highest point in Germany at an altitude of 2962 meters, instead the lowest point in the country is Neuendorf-Sachsenbande at −4 m.
Simple Maps of Germany
Here are the best maps of Germany at high resolution. Below you find printable maps showing Germany in different styles and positions.
Frequently asked questions about Germany
How is Germany divided?
If you are looking for regions or provinces in Germany, here are all the main areas:
Sachsen
Bayern
Rheinland-Pfalz
Saarland
Schleswig-Holstein
Niedersachsen
Nordrhein-Westfalen
Baden-Württemberg
Brandenburg
Mecklenburg-Vorpommern
Bremen
Hamburg
Hessen
Thüringen
Sachsen-Anhalt
Berlin
What are the main points of interest in Germany?
The major tourist attractions in Germany are Neuschwanstein Castle, Brandenburg Gate, Reichstag Building, Berlin Wall Memorial, Cologne Cathedral, Museum Island, Marienplatz, East Side Gallery, Berliner Fernsehturm.
What is the flag of Germany?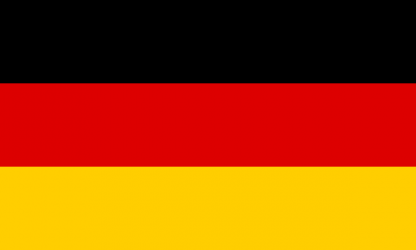 Flag of Germany
What is the capital of Germany?
The main city and capital of Germany is Berlin.
What is the currency in Germany?
Official currency of Germany is Euro.
What is the population of Germany?
In Germany there are 83808500 people.
What is international phone code in Germany?
Germany telephone code is 49.
Other Country Maps in Europe