Interactive Map of France
France is a Republic founded in 1792 and located in the area of Europe, with a land area of 547031 km² and population density of 119 people per km². Territory of France borders Belgium, Luxemborg, Switzerland, Spain, Germany, Monaco, Andorra, Italy. Gross domestic product (GDP) is of about 274000 millions of dollars dollars.
Geography of France
Mont Blanc is the highest point in France at an altitude of 4810 meters, instead the lowest point in the country is Étang de Lavalduc at −10 m.
Simple Maps of France
Here are the best maps of France at high resolution. Below you find printable maps showing France in different styles and positions.
Frequently asked questions about France
How is France divided?
If you are looking for regions or provinces in France, here are all the main areas:
Alsace
Aquitaine
Auvergne
Basse-Normandie
Bourgogne
Bretagne
Centre
Champagne-Ardenne
Corse
Franche-Comté
Guadeloupe
Guyane française
Haute-Normandie
Île-de-France
Languedoc-Roussillon
Limousin
Lorraine
Martinique
Mayotte
Midi-Pyrénées
Nord-Pas-de-Calais
Pays de la Loire
Picardie
Poitou-Charentes
Provence-Alpes-Côte-d'Azur
Réunion
Rhône-Alpes
What are the main points of interest in France?
The major tourist attractions in France are Eiffel Tower, Louvre Museum, Cathédrale Notre-Dame de Paris, Palace of Versailles, Arc de Triomphe, Champs-Élysées, Sacré-Cœur, Musée d'Orsay, Montmartre.
What is the flag of France?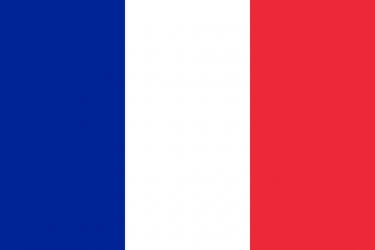 Flag of France
What is the capital of France?
The main city and capital of France is Paris.
What is the currency in France?
Official currency of France is Euro.
What is the population of France?
In France there are 65286700 people.
What is international phone code in France?
France telephone code is 33.
Other Country Maps in Europe