Interactive Map of Mongolia
Mongolia is a Republic founded in 1206 and located in the area of Asia, with a land area of 1565001 km² and population density of 2 people per km². Territory of Mongolia borders China, Russia. Gross domestic product (GDP) is of about 111400 millions of dollars dollars.
Geography of Mongolia
Khüiten Peak is the highest point in Mongolia at an altitude of 4374 meters, instead the lowest point in the country is Hoh Nuur at 518 m.
Simple Maps of Mongolia
Here are the best maps of Mongolia at high resolution. Below you find printable maps showing Mongolia in different styles and positions.
Frequently asked questions about Mongolia
How is Mongolia divided?
If you are looking for regions or provinces in Mongolia, here are all the main areas:
Dornod
Bayan-Ölgiy
Hovd
Sühbaatar
Dornogovi
Govi-Altay
Bayanhongor
Ömnögovi
Hövsgöl
Bulgan
Uvs
Selenge
Dzavhan
Hentiy
Darhan-Uul
Töv
Arhangay
Orhon
Dundgovi
Övörhangay
Govĭ-Sümber
Ulaanbaatar
What are the main points of interest in Mongolia?
The major tourist attractions in Mongolia are Gorkhi Terelj National Park, Gandantegchinlen Monastery, Erdene Zuu Monastery, Chinggis Khaan Statue Complex, Sukhbaatar Square, Khustai Mountains Camp, Flaming Cliffs, The Museum of the Bogd Khaan, Yolin Am Ice Field.
What is the flag of Mongolia?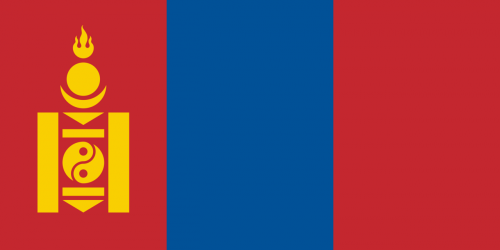 Flag of Mongolia
What is the capital of Mongolia?
The main city and capital of Mongolia is Ulan Bator.
What is the currency in Mongolia?
Official currency of Mongolia is Tugrik.
What is the population of Mongolia?
In Mongolia there are 3278300 people.
What is international phone code in Mongolia?
Mongolia telephone code is 976.
Other Country Maps in Asia