Interactive Map of Algeria
Algeria is a Republic founded in 1962 and located in the area of Africa, with a land area of 2381741 km² and population density of 18 people per km². Territory of Algeria borders Libya, Mali, Mauritania, Morocco, Niger, Tunisia, Western Sahara. Gross domestic product (GDP) is of about 216000 millions of dollars dollars.
Geography of Algeria
Mount Tahat is the highest point in Algeria at an altitude of 3003 meters, instead the lowest point in the country is Chott Melrhir at −40 m.
Simple Maps of Algeria
Here are the best maps of Algeria at high resolution. Below you find printable maps showing Algeria in different styles and positions.
Frequently asked questions about Algeria
How is Algeria divided?
If you are looking for regions or provinces in Algeria, here are all the main areas:
Adrar
Tamanghasset
Tindouf
Béchar
El Tarf
El Oued
Tébessa
Souk Ahras
Ouargla
Illizi
Naâma
Tlemcen
Annaba
Skikda
Jijel
Béjaïa
Tizi Ouzou
Boumerdès
Alger
Tipaza
Chlef
Mostaganem
Oran
Aïn Témouchent
Sétif
Bordj Bou Arréridj
Bouira
Blida
Tissemsilt
Aïn Defla
Relizane
El Bayadh
Saïda
Sidi Bel Abbès
Mascara
Ghardaïa
Laghouat
Médéa
Tiaret
M'Sila
Batna
Khenchela
Guelma
Constantine
Mila
Oum el Bouaghi
Biskra
Djelfa
What are the main points of interest in Algeria?
The major tourist attractions in Algeria are Monument of the martyr, Botanical garden El-Hamma Jardin d'Essai, Fort Santa Cruz, Bardo National Museum of Prehistory and Ethnography, Basilique Notre Dame d'Afrique, Beni Hammad Fort, Palais des Rais, Tikjda, maison de parc national de gouraya.
What is the flag of Algeria?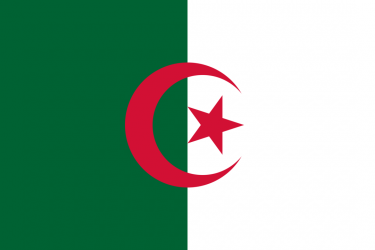 Flag of Algeria
What is the capital of Algeria?
The main city and capital of Algeria is Algiers.
What is the currency in Algeria?
Official currency of Algeria is Dinar.
What is the population of Algeria?
In Algeria there are 43924900 people.
What is international phone code in Algeria?
Algeria telephone code is 213.
Other Country Maps in Africa